Biochar Roundtable Highlights Opportunities for Commercialization in Minnesota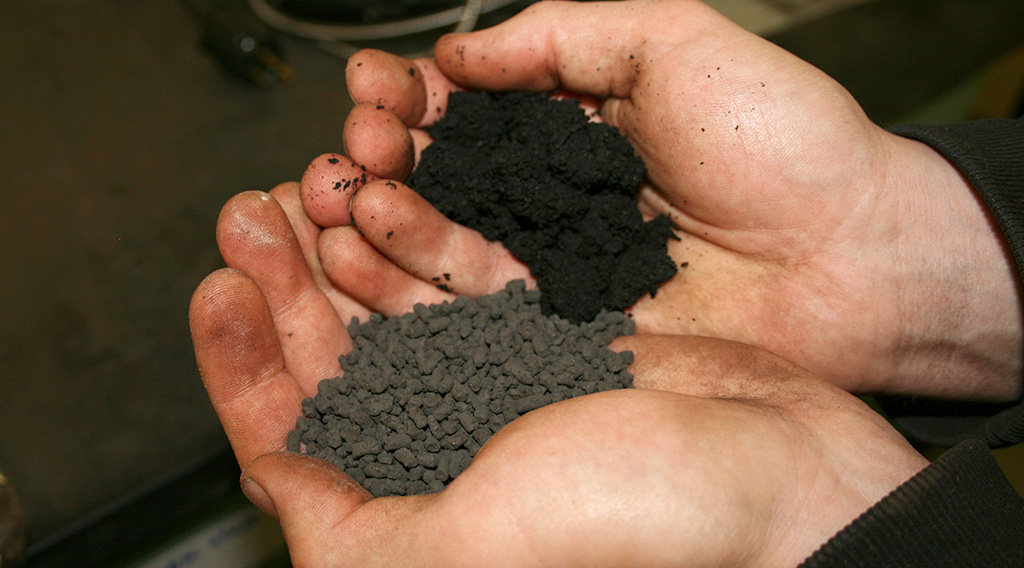 On November 23, 2020, the Bioeconomy Coalition of Minnesota (BCM) and Natural Resources Research Institute (NRRI) co-hosted a biochar roundtable to discuss opportunities and limitations of commercializing biochar in Minnesota. The roundtable included a series of expert presentations and a group discussion facilitated by Brendan Jordan, vice president of Transportation and Fuels at the Great Plains Institute, which facilitates the Coalition.
Some takeaways from the event:
Biochar offers a clear benefit as a method of storing carbon long term, but more work is needed to validate other benefits of biochar that are key to the economic value proposition.
Variables such as feedstock, pretreatment, and heating affect the production and eventually the performance of biochar. NRRI is conducting research to understand these interactions.
Biochar presents opportunities for specialty crops like tomatoes, animal husbandry (feeding, bedding, and manure treatment), water filtration, and carbon neutral agricultural production.
Remaining hurdles to overcome include the higher cost of biochar compared to other methods of increasing agricultural yields currently on the market coupled with a lack of predictable responses in yield and agricultural fertility increases when biochar is used as a soil amendment.
Biochar 101
Eric Singsaas, leader of Materials and Bioeconomy Research at NRRI, describes biochar as a nearly pure form of carbon which is present in soils in the form of amorphous graphite—a material that has an extremely long half-life. The long half-life is one reason why there is interest in biochar as a carbon sequestration mechanism.
Biochar is created by heating up biomass with limited oxygen until it develops charcoal-like properties. In addition to its high fixed carbon content, some of the properties that make biochar a promising technology are its cation exchange capacity, water retention ability, and invigoration of beneficial soil microbes.
Regional biomass resources in Minnesota for use in the production of biochar include mill residuals; unmerchantable forest residuals such as tops and limbs; fire hazard reduction residuals; dead or dying timber due to invasive species; and urban residuals, such as municipal yard waste, residuals from roadways and parks, and deconstruction waste.
Market and feedstock opportunities
Roundtable panelists discussed the numerous market and feedstock opportunities of biochar. Panelists included:
Kurt Anderson, Minnesota Power
Brian Barry, NRRI
Jim Doten, City of Minneapolis
Ashley McFarland, Dovetail Partners
Eric Singsaas, NRRI
Kurt Spokas, US Department of Agriculture's Agricultural Research Service
Bridget Ulrich, NRRI
The panelists discussed market and feedstock opportunities in the areas of agriculture, contamination removal, urban landscapes, and wood residuals:
Agriculture: There are a variety of opportunities for the use of biochar in agriculture, including higher economic return per acre of land of specialty crops (e.g., mushrooms, lavender, and others), use in animal husbandry (e.g., feeding, bedding, and manure treatment), and helping to achieve carbon neutral agriculture. Policies like the Midwestern clean fuels policy may be able to incentivize the use of biochar by offering credits to farmers that use it to decarbonize the production of corn and soybeans—a mechanism that is still being studied. The Midwestern Clean Fuels Policy Initiative, facilitated by the Great Plains Institute, published a white paper in January of 2020, A Clean Fuels Policy for the Midwest, that discusses design principles, policy considerations, and areas for future work.
Contamination removal: Biochar has been shown to be effective in removing E. coli from stormwater. While E. coli biochar treatment systems are still experimental at large, data suggests that it is worth continuing to invest in the technology.
Urban landscapes: The City of Minneapolis uses biochar in a variety of municipal operations, namely urban forestry landscaping for municipal buildings. The city is using biochar to boost food production in areas of nutritional needs in disadvantaged communities, such as a biochar garden along Chicago Avenue in the Phillips neighborhood. Another project includes converting boulevards into biochar lawns in order to absorb water and enhance pollinator plants. Some of the challenges that are holding back a wider use of biochar in this field are the lack of local availability in Minnesota, the absence of standardization when purchasing it, and the relatively high cost of purchasing and transporting biochar. Despite the variety of possible uses, environmental consulting and landscaping firms are still waiting on further biochar standards characterization, which NRRI is working on.
Wood residuals: A recent white paper published by the Great Plains Institute, titled Emerging Market Opportunities for Minnesota's Forest Products Industry, identifies biochar among a matrix of opportunities for Minnesota wood residuals and bug-kill wood. However, the technology still faces some hurdles, namely the cost of production and the lack of consistent characterization.
Moving forward, it will be important to get more accurate data to better understand the relationship between biochar properties and functions, as well as making sure people understand what biochar is and what it can be.
Themes from the discussion
Several themes emerged from the resulting roundtable discussion. First, the cost of production (e.g., purchasing biomass and transportation costs) continues to hold back the production of biochar from getting to commercial scale. Second, commercialization of biochar depends on the type of biochar, the feedstock, and the existing market of its intended use. Third, making use of the waste heat generated in the production of biochar can help commercialize the technology by benefitting from the production process, not just the end product. There are several types of biochar that can be customized to perform different functions by altering the production process. Lastly, policy incentives are needed to expand markets for biochar.
Watch
In case you missed it, you can watch the full event:
About Us
The Bioeconomy Coalition of Minnesota brings everyone involved in the bioeconomy together to collaborate and grow the industry, along the entire value chain from research and development to production and use. The Coalition aims to position Minnesota as a global leader in the bioeconomy by working together on a shared strategy. Keep up to date with next steps by signing up for the Coalition newsletter here and the Great Plains Institute's newsletter here.
The Natural Resources Research Institute delivers research solutions to balance our economy, resources and environment for resilient communities. Learn more at https://www.nrri.umn.edu/
---
Stay Informed About the Bioeconomy Coalition of Minnesota
Sign up here to receive the latest news and information regarding the Bioeconomy in Minnesota.