Bioeconomy Coalition 2023 Legislative Session Recap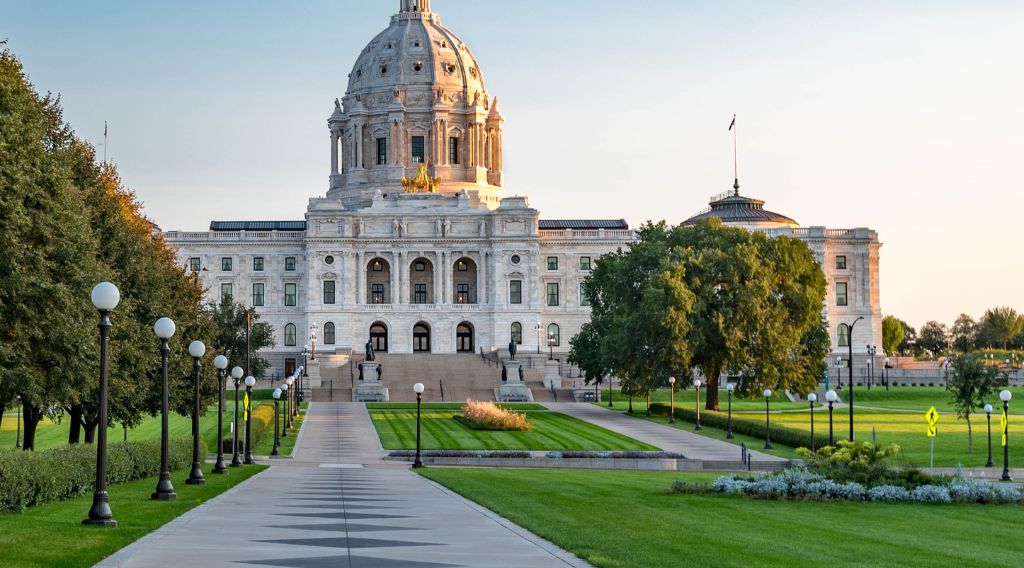 Minnesota's legislative session adjourned on Monday, May 22. A $17.5 billion budget surplus and historic federal investments in clean energy and clean fuels set the stage for a busy legislative session, and policy makers worked up until the final hours of session to finalize and pass legislation. This included passing provisions aimed at increasing the production and use of cleaner fuels in Minnesota.
Convened by the Great Plains Institute, the Bioeconomy Coalition of Minnesota advocated for several agriculture- and forestry-related legislative priorities throughout the 2023 session. The Coalition aims to grow Minnesota's bioeconomy along the entire value chain, from research to commercialization.
Legislators approved a new sustainable aviation fuel tax incentive
Multiple airlines have announced commitments to reduce their carbon footprints by utilizing sustainable aviation fuel (SAF). For example, United Airlines aims to use SAF to help meet its goal to achieve net-zero greenhouse gas emissions by 2050, and Delta is working toward a goal of replacing 10 percent of its conventional jet fuel with SAF by 2030. As an agricultural state with a strong bioeconomy, Minnesota has a role to play in the transition to SAF.
This session, Senator Scott Dibble (DFL) and Representative Erin Koegel (DFL) introduced a bill creating a sustainable aviation fuel tax credit to provide up to $1.50 per gallon of SAF produced in Minnesota or blended with aviation fuel in the state. Legislators approved that tax credit and $11.6 million in funding for it as part of the omnibus transportation bill package.
To qualify for the tax credit, SAF producers must show their fuel production pathway achieves at least a 50 percent reduction in greenhouse gas emissions compared to conventional jet fuel.
State-level incentives for clean fuel production like this one will spur investment in and attract federal funding to the state.
Minnesota agencies will convene a clean transportation standard working group this summer
Minnesota lawmakers considered adopting a clean transportation standard—also known as a clean fuel standard or a low-carbon fuels policy—again this session.
Senator Scott Dibble (DFL) and Representative Jeff Brand (DFL) introduced the Clean Transportation Standard Act, which would be the strongest such standard in the nation. Other states that have adopted clean transportation standards include California, Oregon, and Washington, and legislation is being considered in several other states.
Governor Walz has also supported exploring a Minnesota clean transportation standard, first through an introductory stakeholder process in 2021 and then by including a clean transportation standard working group in its 2023 supplemental budget proposal.
Legislators have approved the administration's proposed working group and provided $250,000 in funding for the group to meet and produce a report. This will allow stakeholders to continue to work through remaining challenges and increase broad support for the bill leading into 2024.
Minnesota's successful Bioincentive Program received no funding increase
As in previous years, one of the Bioeconomy Coalition's top priorities was to secure full funding for the Minnesota Bioincentive Program, a performance-based program designed to attract investments in advanced biofuel, biobased chemical, and bioenergy projects in the state. The program has helped to support innovative companies in the state, such as a renewable natural gas project in Morris and a biomass thermal plant in Shakopee, both of which are displacing the use of conventional natural gas.
The Bioincentive Program is a low-risk investment with high rewards for Minnesota. Because companies participating in the program only receive payment after investment and job creation has occurred, the state is not at risk of paying for projects that fail to materialize. To date, every dollar spent by the state on this program has generated $407.10 for Minnesota's economy and $8.90 in new tax collections.
Despite the program's success at creating economic benefits across Minnesota, it remains underfunded at $5.75 million annually. Senator Grant Hauschild (DFL) and Representative Brad Tabke (DFL) introduced bills this session to increase funding to the levels needed: $15 million annually plus a one-time payment of $10 million to make up for previously unpaid claims. However, that funding increase did not make it across the finish line this session.
Increased funding is needed to ensure the Minnesota Bioincentive Program is effective at spurring innovation and supporting economic growth in the state's rural communities.
The Bioeconomy Coalition of Minnesota will continue to advocate for the policy and funding needed to support the state's bioeconomy and fully realize its potential economic and environmental benefits. To stay up to date on the Coalition's work at the capitol, subscribe to our legislative action alerts.
---
Stay Informed About the Bioeconomy Coalition of Minnesota
Sign up here to receive the latest news and information regarding the Bioeconomy in Minnesota.