Minnesota Legislative Priorities for the Bioeconomy in 2022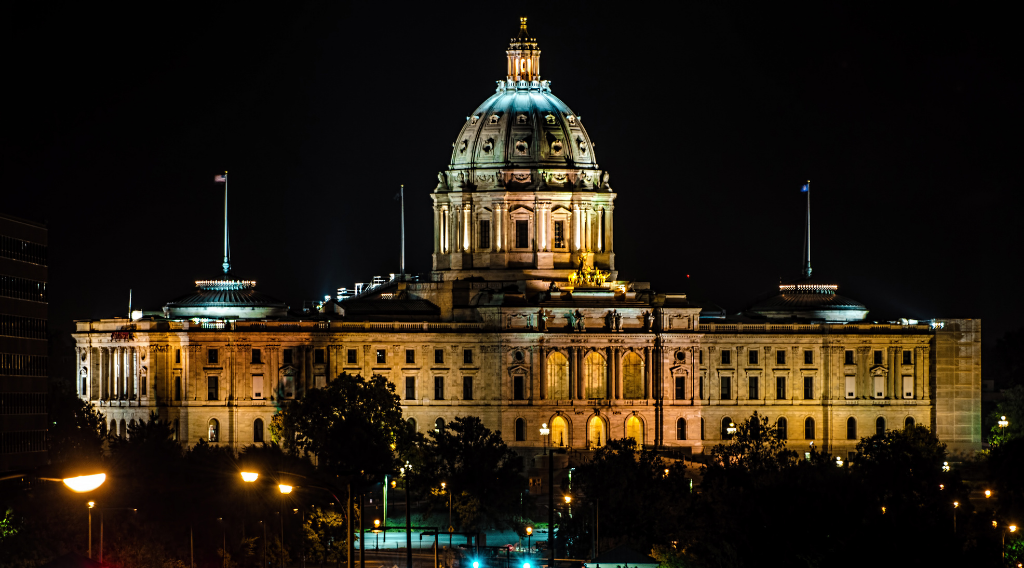 Minnesota's next legislative session is fast approaching, with legislators set to reconvene—whether in person or remotely—on January 31. The Bioeconomy Coalition of Minnesota is gearing up for the upcoming session and has agreed upon a set of policy priorities for 2022. This post shares policy statements in support of Minnesota legislative priorities for the bioeconomy in 2022.
Like in previous years, the Bioeconomy Coalition of Minnesota's top priority is to fully fund Minnesota's Bioincentive Program, which is designed to attract investments in advanced biofuels, renewable chemicals, and biomass thermal energy in the state. The coalition's other priorities include developing sustainable markets for wood residuals, bug-infested wood, and underutilized wood; supporting the development of anaerobic digestion projects to reduce carbon emissions and divert materials from landfills; and passing a clean fuels policy in Minnesota.
The policy statements below reflect the direction of the Bioeconomy Coalition of Minnesota for the 2022 legislative session and are supported by the following members:
Amp Americas
APEX
Clean Energy Economy Minnesota
Conservation Minnesota
Dovetail Partners
Gevo, Inc.
Great River Energy
Koda Energy
Poet, LLC
Sappi North America
Fully fund the Minnesota Bioincentive Program. The Bioincentive Program is a performance-based incentive program, which does not offer projects upfront dollars in the form of grants or loans. Thus, it does not put the state at risk of paying for projects that fail to materialize. Instead, companies must first invest in a project, build it, and produce eligible products. This ensures that the program will pay for itself through increased jobs and economic benefits in Minnesota. In 2021, the Minnesota legislature agreed upon a significant increase in funding for the Bioincentive Program. However, the program is still underfunded, requiring an additional $7 million per year in funding to support Minnesota's bioeconomy and fully realize its potential economic and environmental benefits. The Bioeconomy Coalition of Minnesota supports a fully funded Bioincentive Program so that Minnesota can make good on its commitment to companies that have already chosen to make investments in the state. 
Support markets for wood residuals, bug-infested waste wood, and underutilized wood. 
Multiple trends are creating challenges for Minnesota's wood industries. Markets for mill residuals are declining, resulting in many mills stockpiling their residuals. Additionally, wood waste is projected to increase due to emerald ash borer (EAB) and other bug-infested trees. End markets for EAB-contaminated wood are currently limited due to specific restrictions on the movement and management of the material. Developing sustainable markets is essential to the long-term health of Minnesota's existing wood industries and the long-term management of forested lands. The Bioeconomy Coalition of Minnesota supports investing in research and development to strengthen markets for wood residuals and bug-infested wood as well as help develop projects that can use underutilized wood to produce value-added projects. 
Support the advancement of anaerobic digestion projects that use organic material as a feedstock. Anaerobic digestion technology has been successful in other parts of the United States and Europe in processing source-separated and mechanically separated organics material into clean renewable energy products. The resulting biogas can be used onsite for electricity generation, upgraded partially for use in compressed natural gas for vehicles, or upgraded to pipeline-quality renewable natural gas for sale into low-carbon fuels markets or to meet the Renewable Fuels Standard. In each case, biogas displaces the use of conventional fuels, resulting in significant greenhouse gas emissions reductions. The Bioeconomy Coalition of Minnesota supports legislation, funding, regulatory processes, and utility dockets that advance the development of anaerobic digestion projects utilizing organic material as a feedstock in Minnesota. 
Support implementation of the recommendations from the Governor's Council on Biofuels. Governor Walz signed Executive Order 19-35 on September 16, 2019, establishing the Governor's Council on Biofuels to advise on policy and budget proposals that foster the growth of Minnesota's biofuels industry. The council released recommendations to Governor Walz on November 2, 2020, which included support for increased biofuel blending, clean fuels policy development, increased biofuel use in Minnesota's state fleet, increased public education on biofuels, and further development of advanced biofuels in the state. The Bioeconomy Coalition of Minnesota agrees with the recommendations developed by the council and supports administrative and legislative action to implement the recommendations, particularly actions taken to implement a clean fuels standard in Minnesota.
The Bioeconomy Coalition is facilitated by the Great Plains Institute (GPI), a nonpartisan, nonprofit organization with a mission to transform the energy system to benefit the economy and environment. GPI combines a unique consensus-building approach, expert knowledge, research and analysis, and local action to find and implement lasting solutions. 
Stay updated with the Bioeconomy Coalition of Minnesota by signing up for our newsletter.
---
Stay Informed About the Bioeconomy Coalition of Minnesota
Sign up here to receive the latest news and information regarding the Bioeconomy in Minnesota.