Minnesota Bioeconomy Incentive Profile: Highwater Ethanol Adds Cellulosic Ethanol Production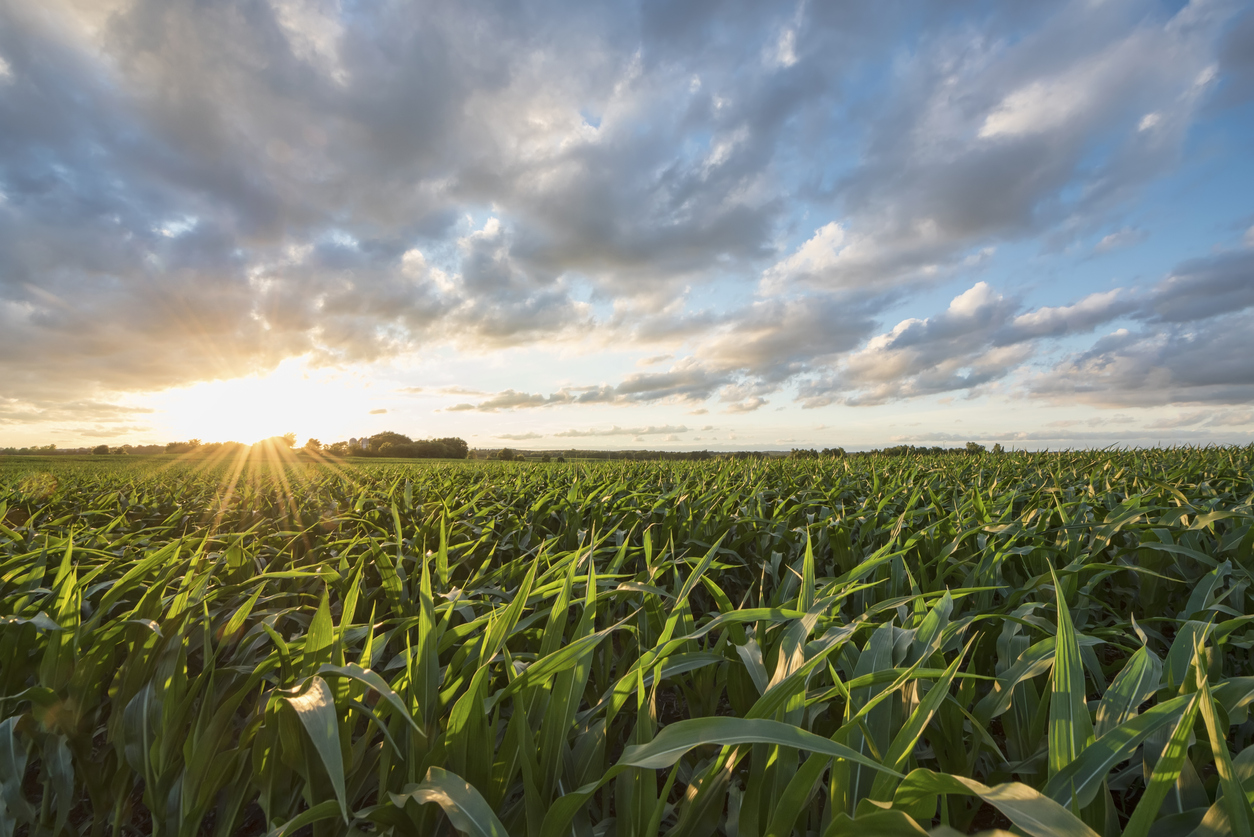 Created in 2015 by the Minnesota Legislature, the Minnesota Bioincentive Program has enrolled 12 companies to receive incentives for their production of advanced biofuels, renewable chemicals, and biomass thermal energy. The performance-based incentive program is designed to attract investments in qualifying biobased products, with companies asked to fund and build their projects before receiving incentive payments. However, the program has been severely underfunded.
To inform policy makers and stakeholders on the beneficial impact of a fully funded program as the 2023 legislative session approaches, the Bioeconomy Coalition of Minnesota is profiling several enrolled companies and fuels:
Figure 1. Minnesota Bioincentive Program recipients by sector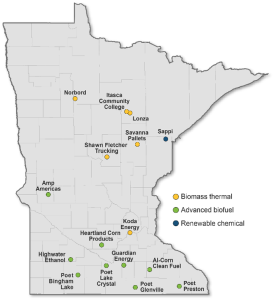 Elizabeth Abramson, Horizon Climate Group, LLC, created for the Bioeconomy Coalition of Minnesota in March 2023 based on information emailed to Great Plains Institute staff from the Minnesota Department of Agriculture, February 13, 2023. Originally published in the Minnesota Bioincentive Program Reimbursements fact sheet.
Corn kernel cellulosic ethanol is another advanced biofuel qualifying for the Minnesota Bioincentive Program and the biofuel garnering the highest participation. Conventional corn ethanol and conventional soybean biodiesel are not eligible for incentives under the program; the facilities only receive incentives for advanced biofuel production above and beyond the conventional biofuel production.
The eight facilities enrolled in the program include Highwater Ethanol in Lamberton, Guardian Energy in Janesville, Heartland Corn Products in Winthrop, Al-Corn Clean Fuel in Claremont, and Poet Biorefining facilities at Bingham Lake, Glenville, Lake Crystal, and Preston. Follow the links to learn more about Guardian Energy's involvement in the bioincentive program and POET's contribution to the Minnesota bioeconomy.
Highwater Ethanol investments enable cellulosic ethanol production
Highwater Ethanol started producing ethanol in 2009 as a 50 million gallon per year nameplate facility. The facility in Lamberton, Minnesota, is now running at a 70 million gallon per year rate—the result of a series of improvements, most recently by adding cellulosic ethanol production.
Producing conventional corn ethanol involves grinding the corn and adding water to make a slurry to which enzymes are added. Thus begins the process of converting corn starch into the glucose preferred by standard yeast. As living microorganisms, yeast consume glucose to produce ethanol and carbon dioxide, leaving behind distillers grains—a mixture of nonfermentable protein, oil, and fiber.
Ethanol producers have been recovering a portion of the oil for the past decade, selling it for feed or feedstock for biodiesel or renewable diesel production. In recent years, some facilities have worked to convert a fraction of the otherwise unused cellulosic fiber in the corn kernel into ethanol. However, introducing a major change like cellulosic ethanol production is risky. Ethanol production is a finely tuned process where a fermentation upset can cost hundreds of thousands of dollars.
"We're fortunate, we didn't have to spend a lot on equipment," explains Highwater Ethanol CEO Brian Kletcher. An earlier upgrade to sheer the corn kernel to improve corn starch conversion turned out to be beneficial when they turned their sights onto cellulosic production. Highwater Ethanol invested in a series of trials and implemented a heightened testing program in its advanced biofuel project.
"We started with the new yeast back in 2019, and we tried some enzymes that were supposed to free up the cellulosic ethanol," Kletcher explains. "Some of it was successful and some not. We were very careful. If we saw we were losing production, we would quit the trial and start things over until we got things fine-tuned to where we wanted."
Minnesota Bioincentive Program helped offset costs of investing in advanced biofuel trials
Kletcher says the cellulosic gallons now range between 3.2 and 5.1 percent of total production—a percentage that must be validated by an independent laboratory every 500,000 gallons.
The cost of the trials, the specialized enzymes and yeast, and ongoing testing, is offset by the incentive and other benefits. Highwater Ethanol receives about $120,000 per quarter from the Minnesota Bioincentive Program, receiving two payments last year. "That [payment is] pretty significant," Kletcher says. "But the uptick really comes from the ethanol we sell into the cellulosic ethanol market going into California. That can be as much as 40 to 70 cents per gallon [for the verified cellulosic gallons]."
"The money we make once our debts are paid goes back out to our investors—back into the community," Kletcher says. "We have 1,400 investors: farmers, business owners, and individuals who are mostly from Minnesota, but also South Dakota and Iowa. We impact a lot of people."
Study details economic impact of companies enrolled in Minnesota Bioincentive Program
While Kletcher can pinpoint the economic lift from cellulosic ethanol, the Great Plains Institute (GPI) wanted to better understand the economic impact of all 12 companies enrolled in the Bioincentive Program (GPI facilitates the Bioeconomy Coalition of Minnesota). GPI commissioned a study conducted by Brigid Tuck, senior economic impact analyst at the Center for Community Vitality at University of Minnesota Extension. She published an analysis of the program's impact in 2020.
The study found overall that recipients of the Bioincentive Program directly spent $690.5 million on construction projects to retrofit or expand their facilities, which includes investment by ethanol plants to add cellulosic ethanol production capacity.
As a result of these investments, these companies generated an estimated $1.2 billion of economic activity in the state, including $540.6 million in labor income and employment for 8.325 workers. The industry spends $438.8 million annually to operate, resulting in $127.0 million in labor income and employment for 2,415 workers.
Overall, the Minnesota Bioincentive Program generated $407.10 for the economy for every tax dollar invested in the program.
In the study, participants were surveyed on their feedstock use. The program requires a minimum of 80 percent of the feedstock to be sourced from the state to qualify for the incentive. The survey showed that nearly 100 percent of corn feedstock was purchased in Minnesota, while those using woody biomass sourced approximately 80 percent in state.
In the year of the study (2019), companies reported spending $229.4 million for corn. However, the University of Minnesota Extension did not include those purchases in its modeling, determining there are no new economic impacts since the advanced biofuel production does not require additional corn production.
The report did note that "the development of new uses for corn can potentially play a role in stabilizing and increasing its commodity price," which in turn would generate additional economic activity through farmers receiving higher prices. Comparatively, companies using wood reported spending $66.6 million within the state, which was modeled as an increase in logging activity.
State investment in the Minnesota Bioincentive Program essential for bioeconomy companies
"The construction-related impacts of bioincentive participants are significant," says Brendan Jordan, GPI's vice president of Transportation and Fuels. "But the ongoing annual impacts are even greater. The program was designed to require investment from recipients before they can qualify for the incentive. For many, a return on investment necessitates including the incentive. The state needs to hold up on its end of the bargain."
Susanne Retka Schill is a Langdon, North Dakota, based freelance writer. Now semi-retired, she has nearly two decades of experience writing about biofuels and renewable energy.
Additional Information
Download our fact sheet for additional information regarding the Minnesota Bioincentive Program reimbursements.
Interested in supporting our effort to fully fund the Minnesota Bioincentive Program? Sign up for action alerts.
---
Stay Informed About the Bioeconomy Coalition of Minnesota
Sign up here to receive the latest news and information regarding the Bioeconomy in Minnesota.